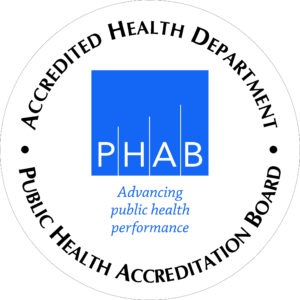 Henry County Health Department achieved national public health accreditation in March 2016. The department is one of fewer than 120 health departments across the nation that have thus far achieved accreditation through PHAB since the organization launched in 2011. This milestone accomplishment is official recognition that Henry County Health Department meets or exceeds the rigorous standards established by the non-profit, non-governmental Public Health Accreditation Board (PHAB).
PHAB is the nonprofit organization that administers the national accreditation program for Tribal, state, local, and territorial health departments. The national accreditation program works to improve and protect the health of the public by advancing and ultimately transforming the quality and performance of the nation's public health departments.
To receive accreditation, a health department must undergo a rigorous, multi-faceted, peer-reviewed assessment to ensure it meets or exceeds a specific set of quality standards and measures. Henry County Health Department began laying the foundation to implement continuous quality improvement and pursue accreditation in 2010.  Additionally, the Ohio Legislature requires all local health departments in Ohio to achieve national accreditation by June 30, 2020.
The Department believes this lengthy process to be worth the effort, as it provides momentum toward greater accountability and enhanced credibility to stakeholders, partners and the community. The achievement of national accreditation will help guide our work to better protect, promote and preserve the health of the people in our community.
We want to thank Henry County residents for placing their trust in us.  We believe that our residents deserve to have the best health department in all of Ohio. Being one of only ten local health departments in the state of Ohio to achieve national accreditation demonstrates that Henry County truly does have a great health department.
Contact us to learn more about our accreditation achievement.